I first met Kerry, Ken, and their little guy last year, during An Ümlarifically Sweet Halloween at Trinity-Bellwoods Park. I was thrilled when they returned for more photos at An Ümlarific Holiday at Trinity-Bellwoods Park in December. And you can imagine how overjoyed I was when mom contacted me in February to book a family session for June.
Below is a comparison of the little guy from last November, and him again in August. What a difference 9 months makes! Though he's still as handsome as ever, don't you think? :)
We had our session originally scheduled for June 1st in the morning, outdoors. Unfortunately, Mother Nature had other plans for us, and we made the executive decision to postpone June session due to the threat of rain. And THEN Mother Nature totally threw us a curveball and decided that it would be funny to skip the rain in the morning and instead have it come in the afternoon. If only I had a crystal ball... (har har)
Well, the silver lining is that our rescheduled session took place over the Civic Holiday long weekend, and the day was GORGEOUS. Our session took place along Toronto's waterfront. Ken, Kerry, and their little boy living near the waterfront, and with it being such a prominent part of their lives, it seemed only fitting for them to choose this location for their session.
We hit up three major locations for our session:
The John Street Roundhouse, CN Tower
The roundhouse is lots of fun because its fun shape. Plus, there's the added fun of the Toronto skyline, with its office buildings and condos, to serve as a fabulous backdrop for the photos. Ken and Kerry came prepared with an arsenal of fun for their little guy, including bubbles, which are of course an all-time favourite of mine to use for outdoor sessions (I always keep some in my backpack for emergency purposes).
The Simcoe Wavedeck proved to be a lot of fun as well. If you've never been there, it's basically a wavy boardwalk. And I'll bet that it is every skateboarder's fantasy to be able to board there. The only thing that probably prevents them from doing so is the inconveniently-placed rails at the wave troughs, which I'm guessing were placed there as a skateboarding deterrent.
Here's one of my favourite shots from the Simcoe Wavedeck:
And finally, we ended our session in the Music Garden. As you would expect from its name, you can, the Music Garden is used in the summer for outdoor musical performances. A few summers back, I attended a violin ensemble performance there. It took place in the early evening, and it was wonderful to set there in the garden, watching the sunset, and listening to great music.
Check out some more highlights from this session below!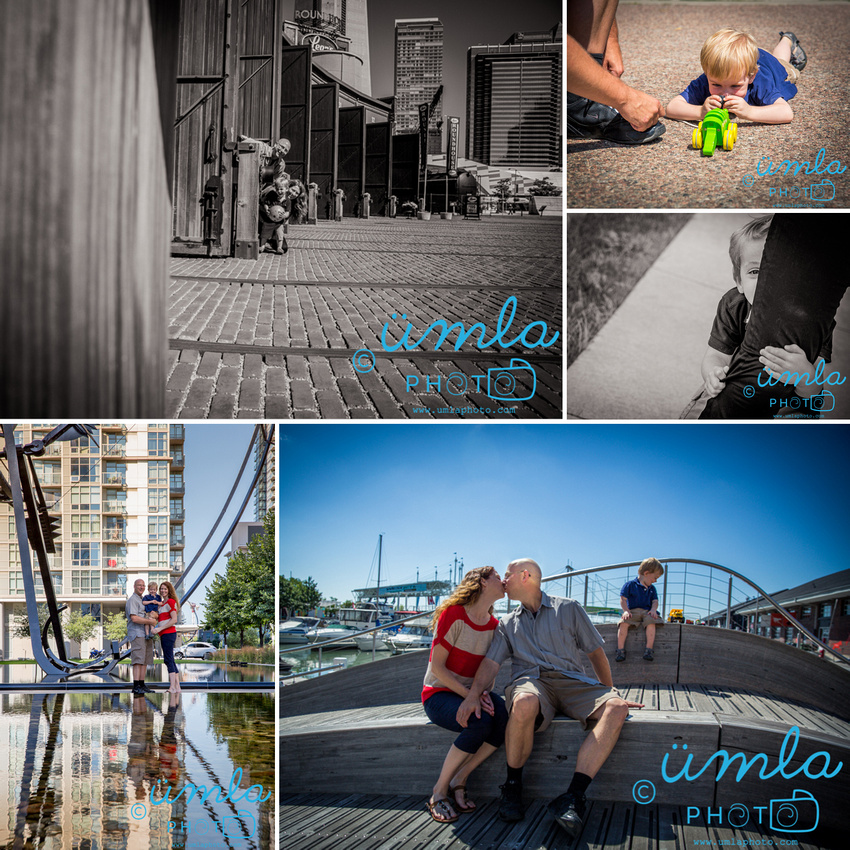 A lovely session for a lovely family! And I am very honored that they have chosen me for their photos three times.