Meet Claire and Ryan. In late April, Claire contacted me after finding out about me at the Green Living Show. As you may recall, I was there taking photos for Bebo Mia during the Baby & Me Fitness launch party. She was interested in signing up for my Fresh 48 special. Her timing was perfect: she was due that week, and she had been my first inquiry of the month for the promo. Claire and I hit it off right away. She was very easygoing and was definitely eager for baby to be born. Her due date came and went, and all the while, she'd kept me updated on her status - baby was still happy being on the inside! On the second week past her due date, she send me a quick note to let me know that she was being induced that week (i.e. 2 weeks to the day after her due date).
I waited anxiously. The weekend came and went, and I was worried that there may have been a problem, as I hadn't heard from her. Then, I finally got the e-mail with the great news, announcing the birth of her son Brayden. We scheduled a session for that week, when Brayden was 5 days old. Still fresh enough for me! :)
Brayden was an absolute sweetheart, and stayed pretty calm and quiet for the whole session. Here is one of the first photos that I took of him. I don't pose newborns, as it's not my style. As you can see, though, Brayden managed to pose himself!
Although I think that no matter how many kids you have, their birth is always special, there is something to be said about the birth of your first child. Feeling that flood of love for this tiny person that you helped to create is like no other feeling. And I think that you definitely see this first-time-parent-love in both Claire and Ryan for their precious little boy in these photos: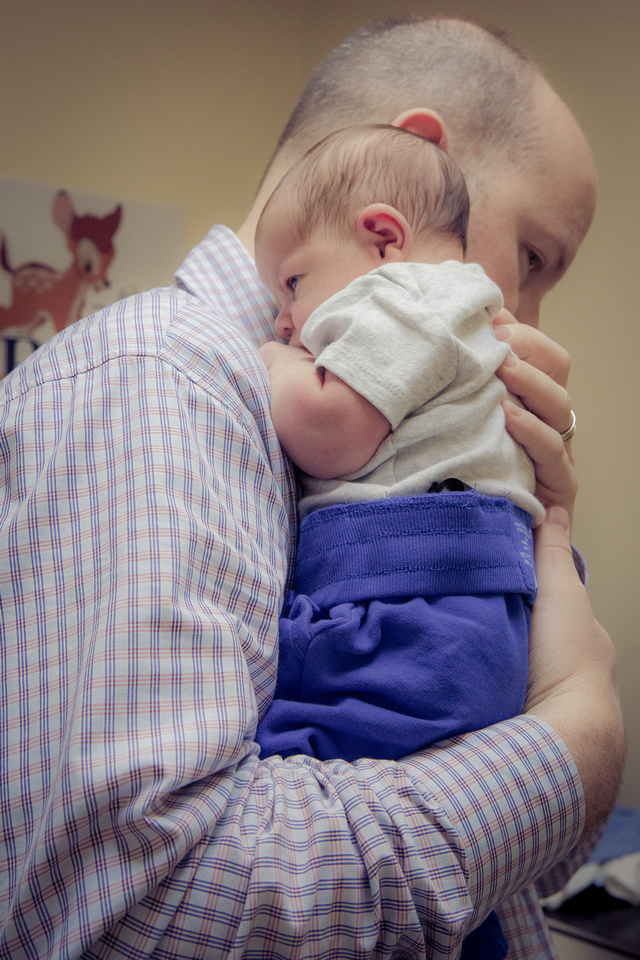 Brayden was remarkably alert for our session. Traditional newborn photographers prefer babies to be asleep, since they often pose the babies in various ways, using different props. Since my style is more candid and documentary-like, I'm happy whether baby has his eyes open or closed. In fact, I always love the photos of the newborns with their eyes open. They spend so much time asleep that I find it a real treat to be able to see their eyes at this stage of their lives. Which is why I totally love this photo:
Wide awake, and not fussy at all! Besides, who would be fussy with such awesome kisses and cuddles from mom and dad?
One thing that I love about lifestyle sessions is that you really do capture candid, spontaneous moments. Like the one below, where Claire is taking a photo of Brayden in his car seat, as they prepared to take him out for a stroller ride. In our digital age of camera phones and Facebook, this totally captures what 21st century living is all about. I love it!
Brayden was my second of three newborns in the month of May. I feel so lucky to be able to work with such great families and their cute babies. This family was no exception. Welcome to the world, Brayden! You are one lucky little man to have such loving parents!