I love it when clients share photos of how they've arranged their photos at home, and I am pleased to be able to share one such arrangement with you today! Clients Sophie and Craig attended my May the Fourth Be With Yoü photo session back in early May, and they were so thrilled with their photos that they purchased a few 8x10 masonite-backed prints in addition to the one that they ordered as part of their package. In case you're wondering what masonite is, it's a wood composite type of backing that's 3mm thick.
All of my 8x10s are backed in either masonite or matboard (think of a 2mm thick cardboard type of backing), for additional durability. When prints are as big as 8x10s or larger (for example, 11x14), the print becomes too flimsy to not have a backing, so I never sell my larger prints without one. The nice thing about prints with a masonite backing is that you can still pop the prints in a store-bought frame, have the prints custom-framed, or just stand them on a piece of furniture, such as a table, leaning against a wall. And now, thanks to the ingenuity of my clients Sophie and Craig, there's yet another way for you to display your masonite-backed prints!
In their own words:
"Just wanted to send you a quick pic of our photo collage of your photographs from our time together. We hung them in our upstairs hallway and they look fantastic!

I found a great velcro hanging system at home depot that is perfect for this type of mounting - super easy to use and they apparently don't peel off paint when you take them off the wall. We'll see!

Thanks again for the great shots as I'm sure they will be the center piece for our second floor for years to come."
Here's what their wall display looks like: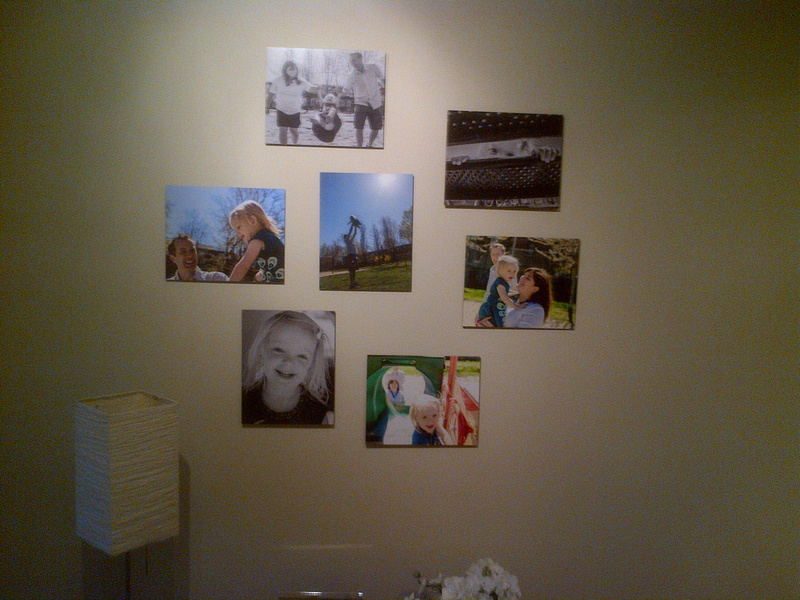 Thanks Sophie and Craig for sharing! You guys totally rock!
If you've purchased prints, standouts, or canvas from me, I invite you to send me a photo of your wall display. I love to see how clients arrange their photos at home!