On Saturday, I held the May the Fourth Be With Yoü mini-sessions at Leslie Grove Park.
The weather had been absolutely GORGEOUS all week long, as Spring came out of hiding, and fortunately, Saturday kept with that trend. My daughter was really excited about this photo session, because, unlike my regular sessions, she got to tag along. She LOVES being a part of this type of thing. To prepare me for my photo session, she drew us a picture. The picture was a drawing of each of us holding a camera. She then cut us out, and turned us into kites. This is the result. For some reason, I look unhappy. I was told that she didn't have room for a smiley face. So then I asked her to try to correct it, since I was happy to be taking photographs; not sad! The result is her correction - a smiley face AND a sad face. Sadly, the sad face seems to stick out more. Too funny.
The mini-sessions focused on family lifestyle photos; however, since Saturday also happened to be Star Wars Day, I opted to bring some of my daughter's Star Wars paraphernalia along for my sessions, just in case any of the families signed up were closet Star Wars fans. These included: a Darth Vader costume, an Obi-Wan costume, three light sabres, and a Yoda backpack (throwback to Star Wars Ep. V). I also brought some bubbles, a ball, and a kite, which made for a really fun time at the park, both for my wonderful clients and for my daughter. Check out the Yoda backpack.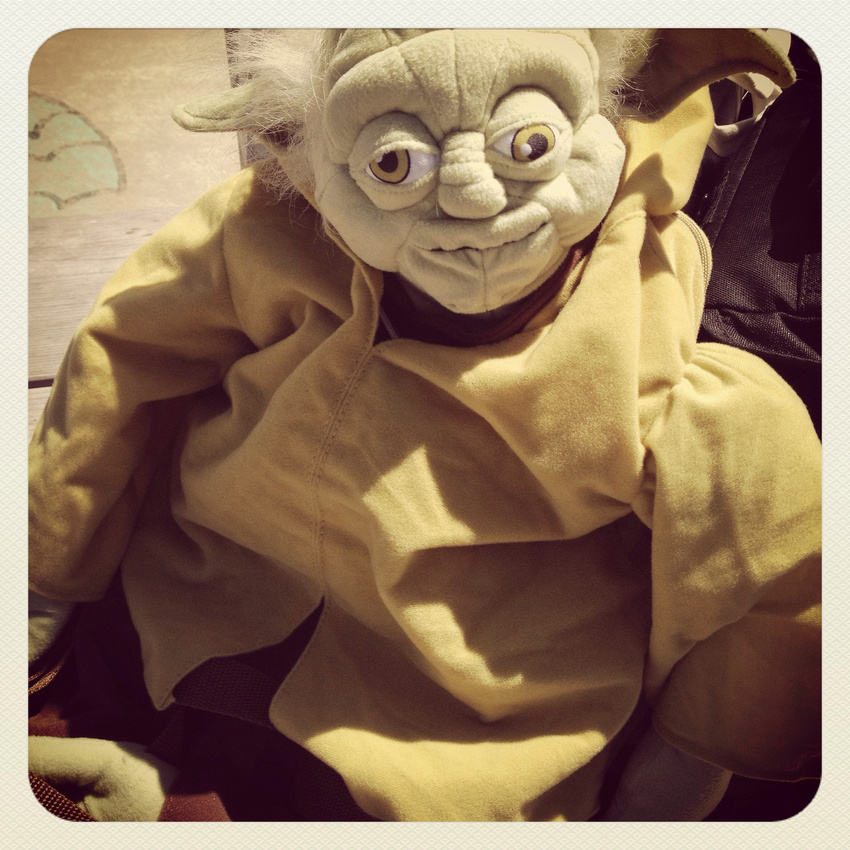 The sessions themselves were a ton of fun. One of my client couples was a return mini-session client! These clients were expecting their first baby back in October 2012, when I first photographed them for An Ümlarifically Sweet Halloween, and they returned for some family shots. What a real treat!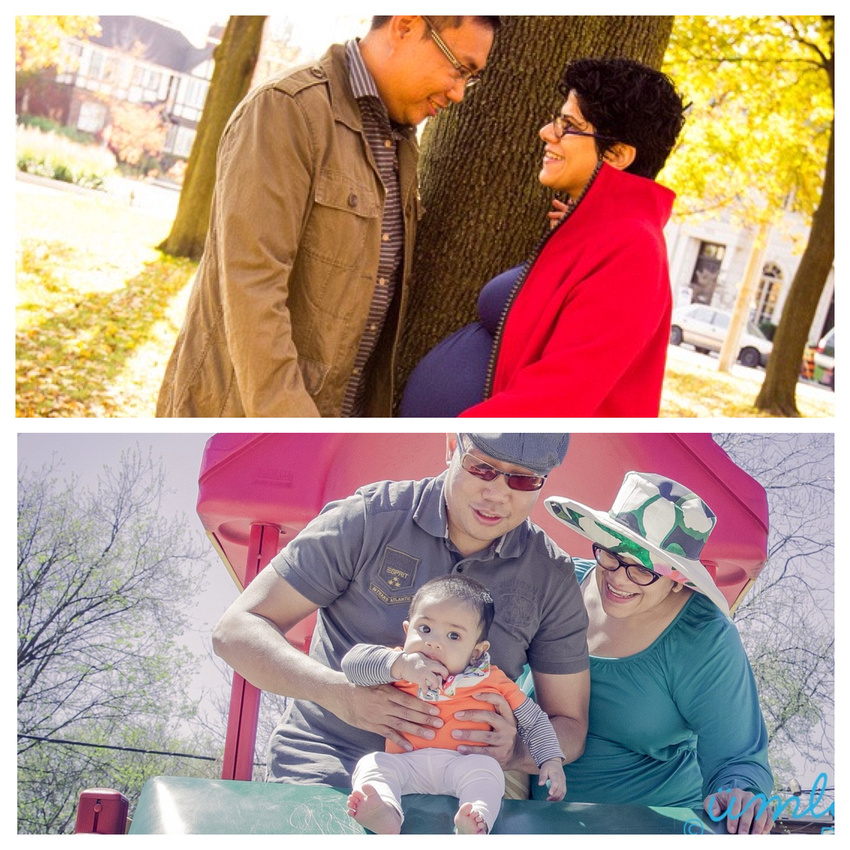 Just look at this handsome face.
I also had a couple of brand-new clients, who were new to the Ümla mini-session experience. I got to photograph both babies and toddlers, which was a real treat. Both are a ton of fun, because they basically run the show. It doesn't matter what they say or do; it all looks cute, and I feel privileged to get to capture it all. Check out a few highlights:
This little gal was such a treat. She and her parents were completely relaxed, and just rolled with it. Look at her beautiful little expression, complemented by her parents also being very photogenic. Melts my heart!
The next family was also a new Ümla-family, and they were just as much fun to photograph. Whereas my first couple of clients had babies, this next set had a lovely 2-year-old.

Mom and dad were pretty easygoing too, as you can see from this next shot.
This little gal was a joy to work with. Although she was only two, she was so incredibly articulate, and LOVED playing with the dogs hanging out at the park. I was amazed by how gentle she was with the dogs. I wouldn't be surprised if she grew up to be a vet! Her parents were also just wonderful, and totally embraced the fun and casual aspect of the photo session.
And, in the spirit of Star Wars Day, things wouldn't be complete without a light sabre fight. I got to capture this in-between sessions, as my hubby and daughter did a Star Wars babble scene re-enactment atop this ledge. My daughter is dressed up as Obi-Wan for this photo. Later on, she dressed up as Darth Vader.
I also got in on the fun, in-between sessions, having a light sabre duel with my camera stuck to my face.
My daughter was also the hit of the park with the little boys, who came up and happily had light sabre fights with her throughout the afternoon. I just love the sense of community that this created.
Overall, it was a very fun and very successful day filled with sunshine, great clients, awesome family moments, and lots of Star Wars!