I can't think of the last time that I had a proper vacation. I mean, even when I was off for a week in June, I wound up working for most of the week, usually late at night, while my hubby and daughter were sleeping, so as to not cut into family time during the day. Still, even when I was away from the computer, I'd found myself answering e-mails throughout the day, and when I wasn't doing that, I was thinking about work in some form or another, stressing about meeting editing deadlines, order deadlines, or forgetting about an item in my long to-do list.
This vacation, however, was different. I was cut off from the world, and it was FABULOUS. Not only that, but I'd made the executive decision early on that I would NOT be bringing my DSLR with me on the trip. Instead, I would rely on only my iPhone and my point-and-shoot camera for photos. I'm pretty sure that some people will read this and think that I'm nuts, but, as much as I love taking photos, I love my family more, and I know that had I brought my DSLR along, I would've been busy taking photos, rather than spending time with them. Which is what this vacation was all about.
This trip has been a year in the making, and my little family of three was accompanied by hubby's side of the family - i.e. mother-in-law, father-in-law, sister-in-law, brother-in-law, and my 2 nieces. There were 9 of us in total, and the trip was made possible by my in-laws, who treated both children and their respective families to the trip. My sister-in-law did a lot of planning and research beforehand, for which I am hugely grateful. I am generally a very organized person, but I do find trip-planning to be rather stressful, and prefer to just ride it out when it comes to family vacations (very unlike me, because I love to plan EVERYTHING).
We began our trip by flying out to Vancouver on Saturday morning. Due to the time difference, we wound up enjoying approximately 2 days in the city. Last time I'd been to Vancouver was when I was about 11 or 12. My family had been living in Edmonton at the time, and we drove down to Vancouver through the Rockies in one sitting one summer. How my dad managed to do that in our 1992 2-door Honda Civic with a family of 4, sans AC is beyond me. Still, I lived to tell the tale. I have to admit that I'd forgotten a lot about Vancouver. Now, having revisited the city at 33, I had the chance to see it through fresh eyes, as a photographer.
The hotel that we stayed at overlooked Vancouver harbor, and that meant that for two mornings, I was treated to beautiful scenery for my morning run. I think I ran about 6 or 7km, from our hotel to Stanley Park. I normally run 4 or 5km per day, but I kept wanting to see what was next, and then next thing I knew, I found myself on the other side of the harbor, looking across at our hotel. Having 6 adults plus 3 kids in tow meant that we didn't get to do a TON of stuff during our day in Vancouver, but we at least got to check out the Vancouver Aquarium, and see part of Stanley Park. Here are some highlight shots from the Vancouver portion of the trip.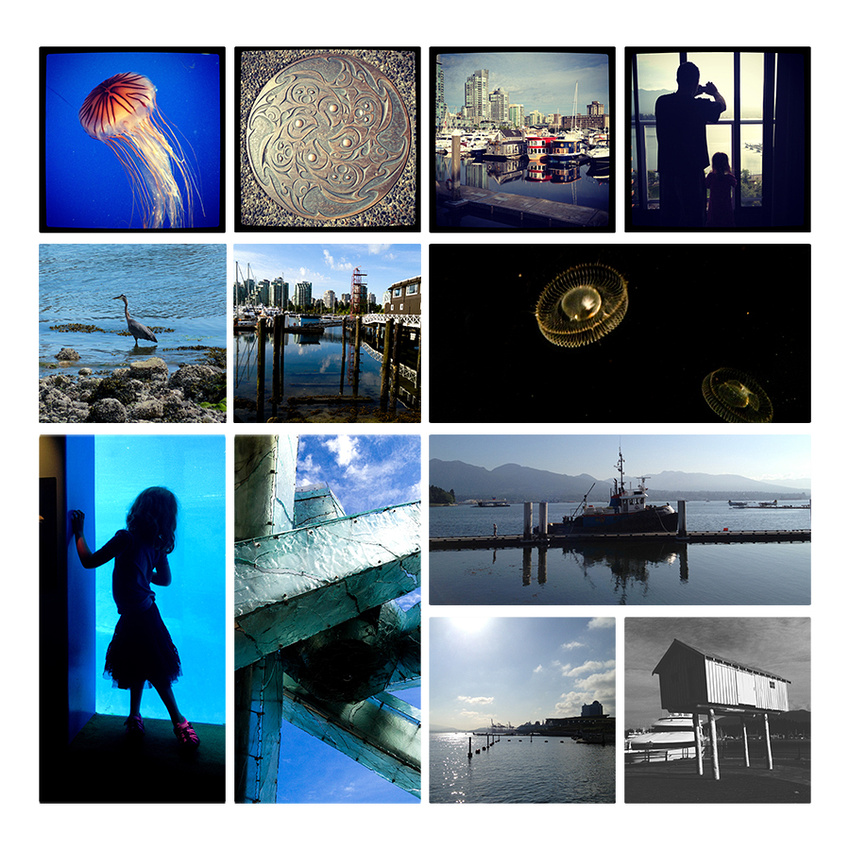 We boarded our cruise ship on the Monday, not far from our hotel in Vancouver. In fact, we walked there while my father-in-law and brother-in-law took a cab with our bags to where our ship was. This was my first cruise experience, and I have to admit that I was a little reluctant about the whole thing. After a week on board, however, I have to say that I came back with a very positive experience. Did I mention that this was a Disney Cruise? Maybe that's why. Between the bountiful food (OMG, I just about exploded every day), the amazing amazing amazing staff, the awesome evening shows (think Broadway à la Disney), the fun kids' activities, and, of course, Disney chacaters galore, it was certainly a very fun time.
We spent 2 days at sea, and with the second day spent going through an amazing fjord called Tracy Arm. Words can't even describe how beautiful the scenery was. The passageway is pretty narrow, so we were flanked by mountains on either side of the ship. The pièce de resistance was the Sawyer Glacier (see my photos below). The ship did a 360-degree turn so that no matter where you were on the ship, you could see it. Our room had a balcony, so we spent the majority of the trip enjoying the sights from there. Although we never saw any huge icebergs, we saw smaller ones, called "bergie bits", tons of gorgeous waterfalls, and, closer to the glacier, we saw TONS of seals lounging around on the ice (see second photo from the left, bottom row, below).
Our first port of call was Skagway. Skagway was our northernmost point, and probably my favorite port of call. We signed up for an excursion which took us up the mountains, through the White Pass, which was a very important route during the Yukon (or Klondike) Gold Rush. We ultimately ended up in northern BC, in this TEENY (as in population of 46 people teeny) town called Fraser. Back in the day, the railway used to go all the way from Skagway, Alaska to Whitehorse, Yukon. , and after a brief stay (i.e. 5 minutes), returned to Skagway. We didn't return to Skagway by train, but instead, returned by bus. On our way back, we stopped by this little down called Liarsville, and though the stopover was super-boring, we did get to pan for gold. We made out with 2 flecks of gold. Check it out!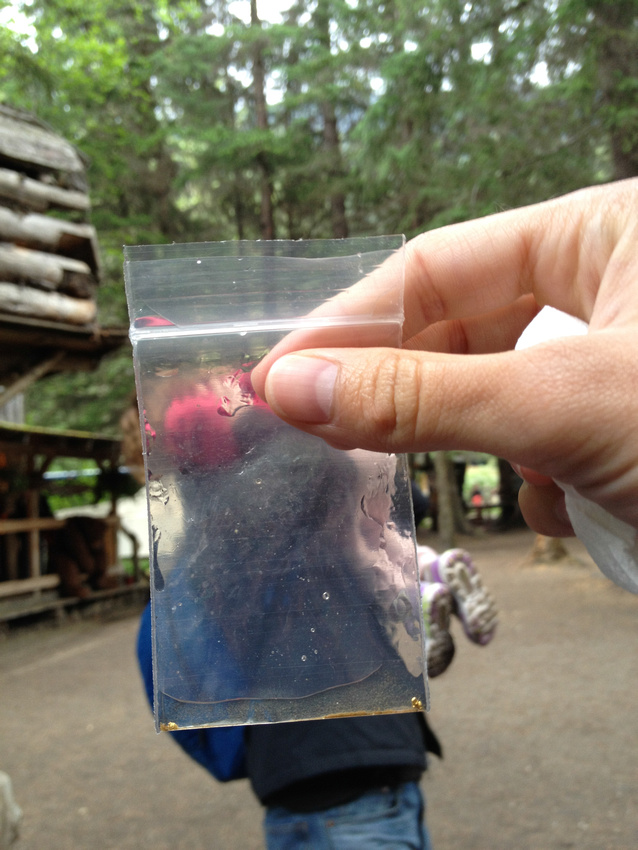 And here are some of the highlights from Skagway:
The next stop was Juneau. Of all of our ports-of-call, Juneau was the largest. Juneau was a really cool city. For one thing, it's Alaska's capital. Secondly, there are a TON of bald eagles flying around. In fact, we saw one perched at a light post along the freeway. There are no roads in or out of Juneau. The only way to get there is either by boat or by plane. We had one excursion booked in Juneau, and that was whale-watching. This was probably the only time during the trip where I lamented not having my DSLR with me, since I"m sure that I would've scored some great while pics. Instead, I had my 12x zoom Panasonic point-and-shoot, which was better than nothing. We did get to see humpback whales during this excursion though the most we saw were their backs/dorsal areas, and their tales. My best whale photo is of a mom and calf pair, with the mom's tail peeking out of the water, and the calf's back sticking out. The resolution isn't the best, but I'm glad that I got the shot (see below). We also got to see a TON of sealions, all perched on some rocks on shore. My hubby joked that they sounded like a herd of zombies. I'm inclined to agree.
Our final port-of-call was Ketchikan. It's smaller than Juneau, but larger than Skagway. The "excursion" that we signed up for was a lumberjack show which, I'd say was very lackluster and very boring. I mean, I'm impressed by the strength of the guys in the show and all, but the presentation was very meh. Before our excursion, my hubby and I had a chance to walk through the town a bit. There wasn't a whole lot to see. There were a few totem poles (which were only replicas), and there was a little river. I'd say that the coolest thing about Ketchikan was that we saw a TON of salmon there, jumping out of the water. I didn't get a great picture of one, given my slow point-and-shoot camera, but this is what I managed to get (near bottom of the picture).
I actually bought some Alaska smoked salmon in Ketchikan, as we'd been told that it was okay to bring it in our suitcases. What they'd neglected to tell us is that Canada doesn't allow you to bring in Salmon, unless it's canned. So I had to leave it on the ship. *snif*
Speaking of wildlife, Ketchikan did offer some great bald eagle sightings. At one point, one bald eagle came really close to the ship, while we were docked. I wasn't fast enough with my camera, but was happy at the sighting nonetheless. The collage below features a bald eagle pic on the bottom left.
And of course, no trip is complete without a collage of awesome sunsets. I am a HUGE fan of sunset pictures, and I have to say that this trip did not disappoint. Below is a collage of sunsets that I captured on various days.
Although the trip was wonderfully relaxing, I am happy to be home, and ready to tackle the remainder of July and August. Once again, a big shout-out to my in-laws for the awesome vacation. It was a blast!
Before I bid all y'alls adieu, I will leave you with this final image. It WAS a Disney Cruise, after all, so I was bound to have at least one Disney picture. :) QUACK!