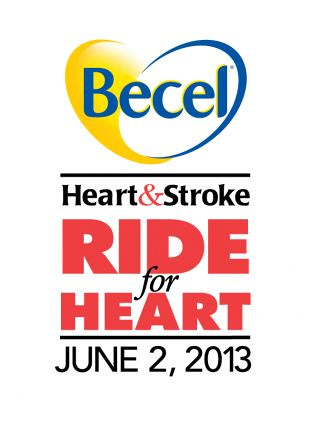 Yesterday, I saw clients Mike and Leah for the proofing and ordering session of their newborn photos (blog post to come soon). The session went great, and I am happy to report that they loved their photos. As we wrapped up, Mike went upstairs to change baby Ellie, and I was chatting with Leah about weekend plans. Leah mentioned that Mike was doing the Ride for Heart for the Heart and Stroke Foundation, on Sunday, June 2nd. She'd mentioned that this would be his first cycling event, and that he had a very personal reason for undertaking this amazing challenge. I'll let Mike put it into his own words. The following excerpt is taken from Mike's fundraising page for the event:
"...I lost my Father to a Heart attack late December 2012. As most of you also know, I may be the world's worst athlete, but am always interested in pushing my personal limits. Add in the fact that this ride falls on my Dad's birthday and entering really becomes a no brainer. I'm trying to raise $1000, but really I want this effort to kick-start a series of commitments to the Heart and Stroke Foundation to help them tame and beat the disease that ultimately took my Dad's life."
I can't tell you how touching it was to hear this. It's a beautiful tribute to Mike's dad, and it's a lovely way to keep his memory alive. I knew right away that I wanted to contribute to Mike's fundraising campaign. Although I posted the last Paying it Forward contribution story last week, I didn't want to wait a few weeks to post the next contribution story (I usually post them after I send out my monthly newsletter). Especially since the Ride for Heart takes place on Sunday, and Mike only has $40 more to reach his goal! Will you help him reach his goal? Again, here's the link to Mike's fundraising page.
Mike, good luck on Sunday. I know you'll have your dad's memory to give you strength to kick some serious ass!
__________________
Mike & Leah are a young urban Toronto couple who recently entered the wonderful world of parenthood! I had the pleasure of photographing them at home for their maternity shots, and again for their newborn shots. Mike is a local entrepreneur and runs his own business, Brand Heroes, so be sure to check them out!